---
Neil Simon's Chapter Two
"Kelly and Ayers are both superb." Charles Donelan, Independent
"Kelly and Ayers...certainly elicit lots of laughter." Rita Moran, Ventura County Star
"(Kelly and Ayers) exploit the hilarious possibilities of their tete-a-tetes with a rollicking good-natured chemistry." Erik Reel Society 805
[back to top]
---
Women in Jeopardy
"Heather is such a pleasure...she owns the NewVic stage."
- Charles Donelan, SB Independent


[back to top]
---
Sweeney Todd
"Heather Ayers, delightfully batty...stunningly effective...compelling and enthralling."
- Alex Henteloff, Casa Magazine

"Heather Ayers sings beautifully and balances neatly on the line between comedy and horror. Ayers is splendid in her scenes with Chris Kauffman who plays Tobias."
- Charles Donelan, independent.com
[back to top]
---
How to Succeed in Business Without Really Trying
"Then there is Heather Ayers' performance as the very sexy Hedy LaRue. Her performance left me speechless in a good way. Her character may be stereotyped as a dumb blonde, but Ayers gave the character an air of class and sophistication. In a word, her performance was inspired and brilliant. Yes, I know that is two words, but trust me, her performance deserves both."
- Jim Ryan, playbackstl.com
"Heather Ayers made her debut as the va-va-voom, curvy Hedy LaRue. Channeling Judy Holliday, she stole every scene she was in, chewing gum and using her feminine wiles, shall we say."
- Lynn Venhaus, bdn.com
"Heather Ayers gains remarkable comedic stature throughout, till she overwhelms every light on stage as the boss's mistress."
- Richard Green, Talkin' Broadway
"It's the exquisitely blowsy Hedy LaRue, played by Heather Ayers that creates constant giggles."
- St. Louis Eat and Drinks
"Heather Ayers is a curvy riot as his mistress, Hedy Larue."
- Chris Gibson, BroadwayWorld
"Heather Ayers is hilarious as Mr. Biggley's sexpot mistress, Hedy LaRue."
- Malcolm Gay, Riverfront Times
"Heather Ayers as the boss' luscious girlfriend comes through with a bright comedic turn."
- Judith Newmark, St. Louis Post-Dispatch
"As Hedy, Heather Ayers displays considerable comic style."
- Chuck Lavazzi, KDHX.org
[back to top]
---
A Little Night Music
"Special notice goes to actress Heather Ayers, whose work as the long-suffering but soon to be avenged Countess Charlotte Malcolm all but seizes the spotlight in her periodic high profile bits in the show."
- Josef Woodard, News-Press

"Countess Charlotte Malcolm, Heather Ayers (is) calm, stunning, (and) majestic."
- Alex Henteloff, Casa Magazine

"As his crafty wife, Charlotte, Heather Ayers was a total delight."
- Charles Donelan, Santa Barbara Independent

"Heather Ayers is a marvel as Charlotte." 
- Don Grigware, BroadwayWorld
[back to top]
---
A Gentleman's Guide to Love and Murder (Hartford Stage)
"(Jefferson Mays) is aided significantly by Heather Ayers as his willful wife Lady Eugenia as they together bring marital disharmony to enjoyable heights of domestic sarcasm."
- Andrew Beck, Examiner
"Ayers shines as Lady Eugenia, the other half of a marriage-from-hell pairing with Mays..."
- Lauren Yarger, BroadwayWorld
[back to top]
---
Dames At Sea (Colony Theatre Mainstage)
"Finally, stealing every scene she's in (as any diva worth her weight in diamonds must do) is the divine Ayers, freshly arrived in L.A. from New York City.  With a string of Broadway and off-Broadway credits on her résumé, Ayers proves a triple threat who can belt with the best of them while scoring some of the evening's biggest laughs merely by whisper-gasping "It's good!"—or by stretching out the 'ble' in 'ensemble'—or even simply by carrying a ladder to rearrange the letters in Mona's misspelled name-in-lights."
- Steven Stanley, Stage Scene LA

"Heather Ayers who brings to mind Joanna Lumley... is tough and sly as Mona. She does a joke with her tongue on saying the word 'ensemble' that brings down the house, and her physical schtick, doing backstrokes up the piano in 'That Mister Man of Mine,' is brilliant. "
- Samuel Bernstein, Stage and Cinema
 
" Heather Ayers camps it up with panache..."
- Philip Brandes, LA Times
[back to top]
---
The Women (Old Globe Theatre)
"But any 'Women' will rise or fall on its Sylvia, the waspish confidante who makes her circle a coven while ignoring her own man's roving eye. The peerless Heather Ayers possesses a crackling tongue (with an amusing hint of Katharine Hepburn) and studied grace, equally believable when defending a friend or inserting a stiletto. "
- VARIETY, Bob Verini  
"The playwright's acerbic language rolls fast and furious, as the women swipe at each other with witty barbs. Heather Ayers adeptly tackles the language and is perfectly wicked as the gossipy Sylvia."
- San Diego Union Tribune, Jennifer Chung Klam
"As Mary's nemesis and the play's chief harpy Sylvia Fowler, Heather Ayers dazzles. The timing of her withering put-downs, the meticulous comic detail of her gestures and movement, even the way she wears her hats are first-rate"
- North County Times
Ayers was at the Globe previously as the militant, patriotic widow in the musical "Ace." She's got more to work with here, and earns every laugh she gets in a floppy-legged, hip-wiggling exercise scene, in the classic cat fight with the soon-to-be divorced in Reno, right through to the end when she's left with no one to gossip with but her analyst."
- North County Times, Anne Marie Welsh
[back to top]
---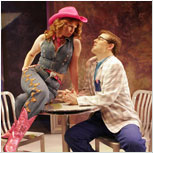 Five Course Love (Minetta Lane Theatre)
"The new musical Five Course Love is a pleasantly fluffy...vehicle, but a young actress named Heather Ayers turns it into a potentially star-making one. Her versatile, big-voiced performance in five roles might make Kristin Chenoweth want to check the rear view mirror."
- NYTimes, Neil Genzlinger
"Ayers has a powerful voice and particularly shines in the first and last scenes."
- Broadway.com, William Stevenson

  "...though my own favorite was the captivating and strong of voice Heather Ayers who first crossed my radar at Barrington Stage in the Berkshires."
- CurtainUp, Elyse Sommer
"Ayers delivers a hilarious, deep-throated, Nashville-type ballad of I Loved You When I Thought Your Name Was Ken."
- NYTheatre.com, Jo Ann Rosen

"Heather Ayers is charming in the female lead. Ayers is at her most amusing as Gretchen, the latex-clad dominatrix in Der Schlupfwinkel Speiseplatz..."
- Associated Press, Peter Santilli
"...an enormously talented three-person cast. All three are dynamic triple threats, so utterly malleable in voice and physicality that they all but vanish into the caricatures they've been assigned."
- Talkin' Broadway, Matthew Murray
"Ayers is wonderfully funny and sexy as Barbie....Ayers shows her range as Sofia, a moll cheating on her man with another mobster.... Ayers sings well dramatically, is attractive and shows immense talent."
- Wolf Entertainment, William Wolf
"Ayers, in particular, displays a radiant star-quality and a powerhouse voice as she parlays between playing a Southern tramp, an Italian mafia wife, a German dominatrix, a dim-witted Spanish floozy and an introverted diner waitress...."
- Next Magazine, David Hurst
[back to top]
---
Ace (Old Globe Theatre)
"Heather Ayers as Ruth, John Robert's love, artfully develops her character from sweet, free-spirit to bitter old woman."
- Voice of San Diego, Molly Bettiga
"The two female principals Lisa Datz (as ELIZABETH) and Heather Ayers (as RUTH) both showcased gorgeous and diverse voices."
- San Diego Theatre Scene
"And as Ruth, Heather Ayers transmits a refined, Gibson Girl quality."
- North County Times, Pam Kragen  

"The two young women in their lives (Heather Ayers as Ruth, Robert's wife, and Lisa Datz as Elizabeth) are exceptional..."
- Poway News Chieftain, Eileen Sondak
"It is during those somnambulant sequences that the guilt-tripping grandmother Ruth (wonderfully sung by Heather Ayers) tells her story..."
- showmag.com, January Riddle
[back to top]
---
The Last Five Years (Cincinnati Playhouse)
"Heather Ayers sings quite well, and she convincingly conveys both the enthusiastic optimism and frustrated anger of Cathy."
- Scott Cain, Talkin' Broadway
"Ayers and Bonds have forceful voices that splendidly reflect the intense moods from jubilation to agony in this relationship. But the pair also shade their voices for tender, sensitive ranges...the passion this couple expends, in at least trying to love, endows this musical with impressive emotional success."
- Jerry Stein, The Cincinnati Post

  "Bonds and Ayers buoy the show with their performances. Ayers has the harder road to hoe, by far, starting the show in Catherine's darkest emotional place and then working backward through her motivations and natural energies. As such, she's at her best when she lets the audience into her sadness and confusion, notably in the opener 'Still Hurting' and more so in the desperate plea 'See I'm Smiling,' as she tries in vain to hang on to something she knows isn't there. Her strong voice and ability to convey Catherine's anguish through music serve the show well. Both actors handle the comedic moments in the show well... In particular, Ayers' 'Summer in Ohio' and 'Climbing Uphill' are laugh-out-loud funny."
- Rodger Pille, Cincinnati CityBeat
[back to top]
---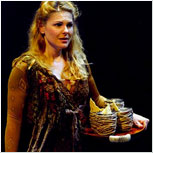 Children of Eden (Arkansas Repertory Theatre)
"William Solo...and Heather Ayers, as Eve in Act I and Mama Noah in Act II, are two of the best musical actors to grace the Rep's stage. Ayers is back after a rousing turn as Reno Sweeney in the Cliff Baker-directed 'Anything Goes' in 2001. At that time, we deemed that musical as good as anything the Rep had staged in recent years. Put 'Children of Eden' in that class, and certainly in the top three shows we've seen in the past five years. Maybe Ayers has that magic touch. ...Ayers, who in her two Rep musicals has shown to have a knack of bringing the Rep's house down with a rousing closing number, does it here with the gospel romp 'Ain't it Good'."
- Jim Harris, Arkansas Times
[back to top]
---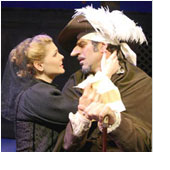 Cyrano de Bergerac (Barrington Stage Company)
"Ayers' Roxanne is no empty calories ingenue. Her Roxanne clearly is worthy of Cyrano's love - bright, mature, outspoken, determined, passionate."
- Jeffrey Borak, The Berkshire Eagle
"As Roxanne, Heather Ayers is the ideal heroine; beautiful, tender...she inhabits her role with grace and when needed, spirit and courage."
- Frances Benn Hall, newberkshire.com
"Heather Ayers... strikes a good balance between the love struck, naive young Roxanne and the mature, wiser woman."
- Elyse Sommer, CurtainUp
"Roxanne is given a loving and passionate performance by Heather Ayers."
- Ron Lee, WBRK Radio
"Heather Ayers plays the muse with a nice blend of intellect and innocence."
- Michael Eck, timesunion.com

"Christopher Innvar is ably supported by the company, especially Ayers as the wide-eyed and lovable Roxanne."
- Terry Byrne, Boston Herald
"Thankfully, Heather Ayers has her Roxanne grow from a vain, self-centered child into a mature woman who seems deserving of Cyrano. It also helps that Ayers is never dismissive of Cyrano or treats him as a means to an end. It is clear she likes him as a friend - and she hints that subliminally more might be at play."
- Bob Goepfert, Troy Record
[back to top]
---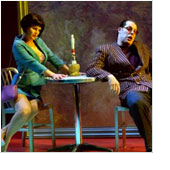 Five Course Love (Geva Theatre)
"Heather Ayers gets to play sexpot, maiden fair, predatory femme fatale, and lovesick loser, looking good even when looking funny, and singing beautifully in more different ways than you'd expect."
- Herb M. Simpson, City Newspaper
"Heather Ayers has a low-down husky voice you want to follow to the ends of the earth."
- Mark Liu, Democrat and Chronicle
[back to top]
---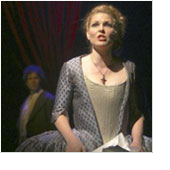 The Game (Barrington Stage Company)
"Heather Ayers is especially noteworthy as the devout Madame de Tourvel who falls victim to Valmont's seductive charm. Her moving 'Until Then' and show-stopping 'My Sin' show off her range as an actor as well as singer."
- Elyse Sommer, CurtainUp

"The young Madame de Tourvel is Valmont's pathetic victim, and Heather Ayers offers a knockout turn. Her solo number, 'My Sin,' is one of the show's most thrilling moments - goose-bump time."
- Robert L. Daniels, Daily Variety

"Ayers is very good as the morally torn Tourvel. Hers is the most perfectly matched performance of actor to part, and she sings heavenly."
- Chelsey Plemmons, News-Times

"Ms. Ayers has a high point in a scene towards the end, when Tourvel pours out her broken heart in one of the most powerful song performances of the musical, a number entitled 'My Sin.'"
- Kristen Gunerman, The Litchfield County Times

"The moment of power in Act Two, however, belongs to Heather Ayers when she sings 'My Sin.'"
- Max Kupperman-Guinals, The Advocate
"Heather Ayers has a more straightforward soprano, but when she's allowed to let loose - 'My Sin' is the musical highlight of the evening - she unveils a tremendous talent of her own."
- Ed Siegel, Boston Globe
"Heather Ayers, as the prim, pious Tourvel, gets the other killer [melody] with 'Until Then.' Her pained rendition at the premiere was mesmerizing. Ayers also impresses in Act Two with the frantic 'My Sin,' which she sings in a frustrated, shameful rage..."
- Michael Eck, timesunion.com
[back to top]
---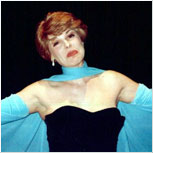 Forbidden Broadway (Stage Center)
"The incredible performances by Heather Ayers, Eric Gutman, Mark-David Kaplan and Leisa Mather are like rich icing on a chocolate cake. Their vocal variety, range, and musicality were superb. Their comic spoofs, impersonations and stage hijinks, were outstanding...Carol Channing - an amazing impersonation [by Heather Ayers] - sang 'Some people sing, some act. I do 'Hello Dolly.'...As clever as the material is, it would be nothing without the stellar performances of the cast to give it life...When Julie Andrews [Heather Ayers] sings 'I couldn't hit the note' it seemed like she was actually on stage, so real was the impersonation."
- Franci Hart, The Daily Oklahoma!
[back to top]
---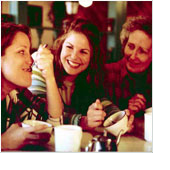 The Spitfire Grill (Florida Stage)
"Heather Ayers shares the vocal spotlight as Shelby Thorpe, a put-upon housewife coaxed into self-discovery."
- Jack Zink, South Florida Sun-Sentinel
"Another actress, Heather Ayers (Shelby) becomes her best friend guiding her to glory in an equally outstanding performance."
- Fred Diekmann, HotSpots Magazine

"'When Hope Goes,' in which Shelby recounts Hannah's family history and the town's decay, showcases Ayers' ravishing soprano and ends with a soft suspended note that will send chills down your spine."
- Jan Sjostrom, Palm Beach Daily News
[back to top]
---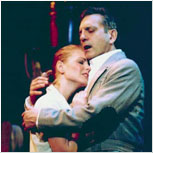 South Pacific (Cherry County Playhouse)
"Bounce, energy and an expressive vocal interpretation by Heather Ayers as Nellie Forbush recreated the quintessential 'hick'."
- Fran Schattenberg, Michigan White Lake Beacon
"Heather Ayers was very convincing as Nellie Forbush and at her best with the jazzy 'I'm Gonna Wash That Man Right Out of My Hair'."
- Tom Harryman, Michigan Chronicle
[back to top]
---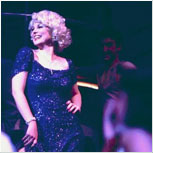 Anything Goes (Arkansas Repertory)
"Heather Ayers as Reno Sweeney and Patrick McRoberts as Billy Crocker were first-class performers. Ayers has an impressive resume that soon enough will include the White Way. Ayers and McRoberts thrill in 'You're the Top,' and Ayers leads the whole pack and has the audience members ready to spring to their feet in a rousing 'Blow, Gabriel, Blow,' a standout number."
- Jim Harris, Arkansas Times
"The show leans heavy on its star, in this case Heather Ayers, who powers the production with a charged portrayal of Reno Sweeney, the proverbial bad girl with a heart of gold.

Ayers drinks, dances, charms and schemes the entire voyage from New York to London, only to turn on a dime in the end and marry a wealthy Brit, Lord Evelyn Oakleigh.

Ayers who has played lead roles in major theaters in Dallas, Cincinnati, and New York, offers up a strong voice and inspired dancing in some absolutely brilliant costumes by Yslan Hicks - a true highlight of this show - and gives 'Anything Goes' an energy that pulsates unceasingly until the cast clears the stage and the audience is still on its feet clapping.

Her evangelical nightclub performance at the start of the second act is the most magnificent performance of the show, a rendition of 'Blow, Gabriel, Blow' that is barely contained by the small stage. But she belts out other Porter classics as well: 'I Get a Kick Out of You,' 'You're the Top' and the title tune 'Anything Goes.'"
- David Fraser

"Leading the pack as Reno Sweeney is Heather Ayers, a New York-based actress who has appeared Off-Broadway and in many regional and film productions. Her energy and exuberance radiated throughout the night. Highlights of the show include Ms. Ayers' rendition of the title song, along with the extraordinary dancing of the rest of the cast. The real showstopper, however, is 'Blow, Gabriel, Blow.' Ms. Ayers does a superb job belting out the number, which, with Ron Hutchins' amazing choreography, turned out to be the high point of the evening."
- Curt Owens, Pine Bluff Commercial

"Heather Ayers, as 'nightclub evangelist' Reno Sweeney, was the star of the show with her wondrous presence and smile, along with a voice to match."
- Jack W. Hill, Arkansas Democrat-Gazette
[back to top]
---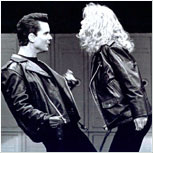 Grease (Cherry County Playhouse)
"The voices were the real story of this production. Roy Chicas as Danny and Heather Ayers as Sandy, both sounded great in their solos and complemented each other well in 'Summer Nights' and 'You're the One That I Want.'"
- Tom Harryman, Michigan Chronicle
[back to top]
---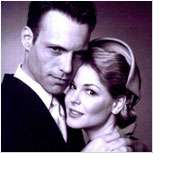 Guys and Dolls (Dallas Theatre Center)
"Tom Zemon and Heather Ayers are splendid as these young lovers. Ayers has a lovely soprano voice that soars majestically on I'll Know."
- Fort Worth Star
[back to top]
---
Man of La Mancha
"The exceptionally talented Ayers played Don Quixote's love interest, Aldonza...she beautifully projects the emotion of a woman who is fighting to maintain her own identity while falling in love with Don Quixote's dream."
- The Zeeland Record
[back to top]
---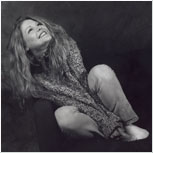 Sylvia (Unicorn Theatre)
"The play's central conceit is the personification of the title character, played exceptionally well in the Unicorn Theatre production by Heather Ayers... But this production, directed by Cynthia Levin, really belongs to Ayers, whose performance makes the play move and holds it all together. Actors in children's theater play animals all the time, but to do so in an adult play is a rare opportunity, and Ayers makes the most of it.
Ayers amusingly captures recognizable canine behavior, but there's more to it than that. This is a full-fledged character who goes through remarkable changes. Alternately manic, playful, manipulative and vulnerable, Sylvia is a singular role played with great creativity by Ayers."
- Robert Trussell, The Kansas City Star
"All is redeemed by the engaging, well-directed performance of Heather Ayers. As the dog of the title who is taken in by a married man in the throes of mid-life and empty-nest crises, Ayers demonstrates remarkable skills in physical comedy, timing, and just general dogliness. When she trembles with glee or circles a spot on the couch she will eventually lay claim to, you know she and director Cynthia Levin have done their homework. And when she gives in to being in heat (one of Ayers' most amazing and wittiest transformations), Greg's jealousy jumps the tracks of simple pet-lover loyalty."
- Steve Walker, Kansas City New-Times

"Heather Ayers returns to the Unicorn stage in the title role, very smartly avoiding any pitfalls such as dog suits or huge floppy ears. Ayers attacks the part with as much honesty and intelligence as she would Blanch DuBois (whom she quotes as Sylvia), finding subtle moments of four-legged truth that send the audience into hysterics."
- Terry Erbe, The Pitch Weekly
"Sylvia is played with an insouciant charm by Heather Ayers. The scene comes to life when Ayers (in an admirably physical performance) bounds on. The laughs are sold and Ayers and Smith are vibrant new talents that must be seen."
- Charles Ferruzza, Johnson County Sun
[back to top]
---